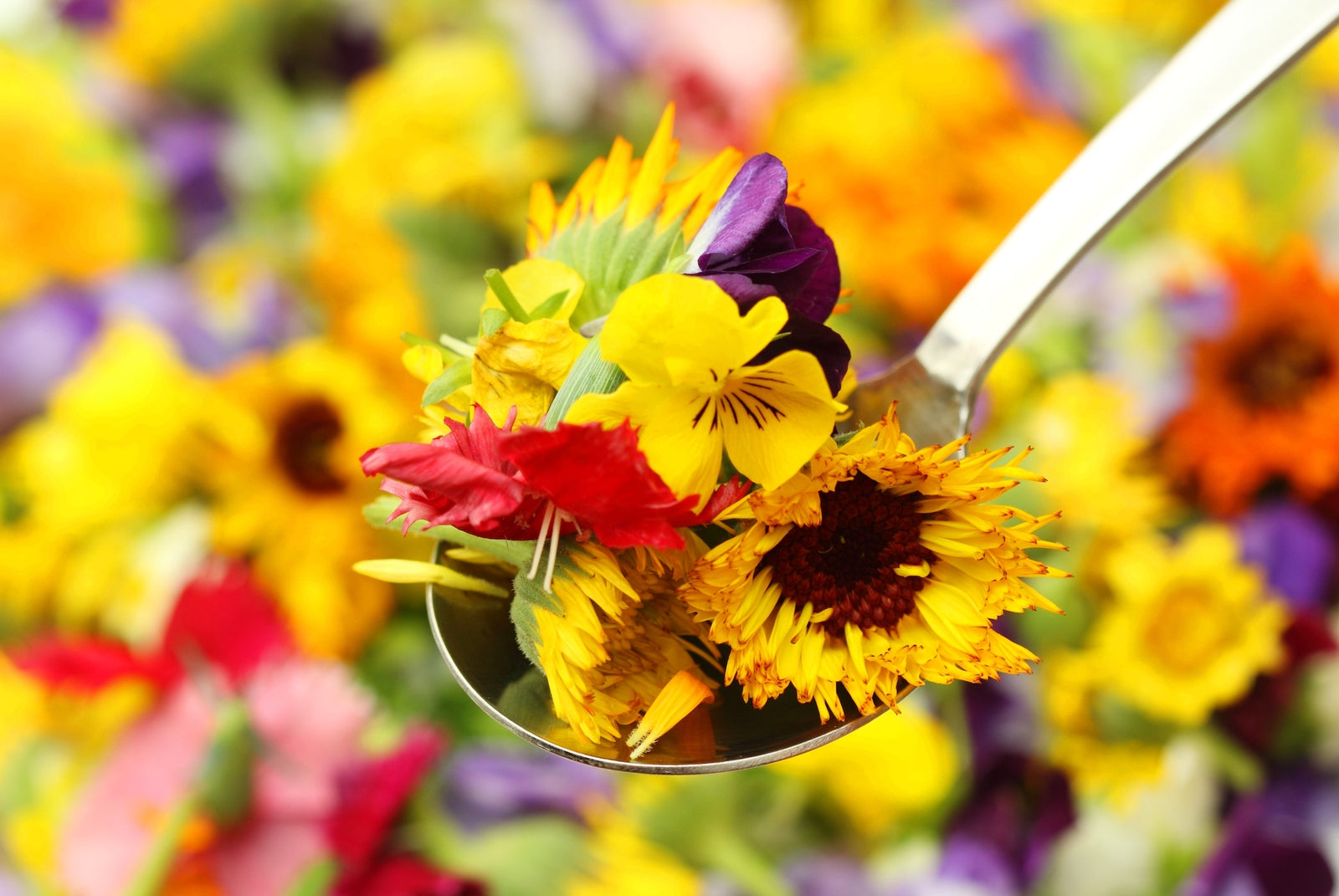 There is a growing trend in home entertaining in presenting food that is not only delicious but also beautiful to look at. What better way to beautify your dishes than with fresh flowers from your garden that not only look pretty but are edible as well.
Summer is the best season to incorporate flowers in your food preparation because the variety and supply are plentiful.
Before you begin, make sure that all edible flowers have not been sprayed or chemically fed. Use organic fertilizers and spray for fungus and pests with organics to control problems.
Any garden, no matter how small, can provide a wonderful supply of summer blooms for culinary use. Here is a list of some to start collecting and growing:
Nasturtiums: almost a never-ending supply of beautiful flowers in hot summer colors. Lovely in salads and they provide a nice peppery taste (see recipe below).
Marigolds: a great addition to salads and as garnishes or used in sauces (see recipe below).
Rosemary, Marjoram and Thyme: all have beautiful flowers that are as useful as their leaves. Their flowers adorn and flavor your favorite fish and chicken recipes.
Roses: use the petals in fresh salads, to flavor summer puddings (add petals on the outer edge of a glass serving dish before spooning pudding), decorate cakes with fresh roses and season olive oil and vinaigrette dressings with fresh petals.
Society Garlic: delicious garlic flavor in both stems and flowers. Flowers look pretty and add spicy garlic flavor to roasted meats and broiled fish. Snip stems and use as a chive substitute on baked or mashed potatoes.
Scented Geraniums: leaves are wonderful in preserves and jellies; the flowers when harvested and dried make soothing and refreshing teas.
Recipe:
Nasturtium Summer Salad
Mixed lettuce leaves
About 36 nasturtium heads
Dressing
2 tablespoons olive oil
1 tablespoon walnut oil
1 tablespoon French mustard
1 tablespoon white wine vinegar
Salt and ground pepper
Toss the flowers gently with the lettuce leaves. You can also add candied walnuts, chopped apples or mandarin oranges. Shake the dressing together and mix with the salad just before serving. Serves 6.
Marigold Sauce
4 tablespoons cider vinegar
2 heaping teaspoons grated horseradish
2 tablespoons sunflower oil
8 heads marigolds
Measure the cider vinegar into a mixing bowl, add the grated horseradish and crush well with a wooden spoon. Blend in the sunflower oil and leave to infuse for 30 minutes. Wash the marigold flowers and drain well. Stir the marigold petals into the sauce. Serve this sauce with smoked mackerel or herring on a bed of fresh red lettuce leaves and marigold petals for color.