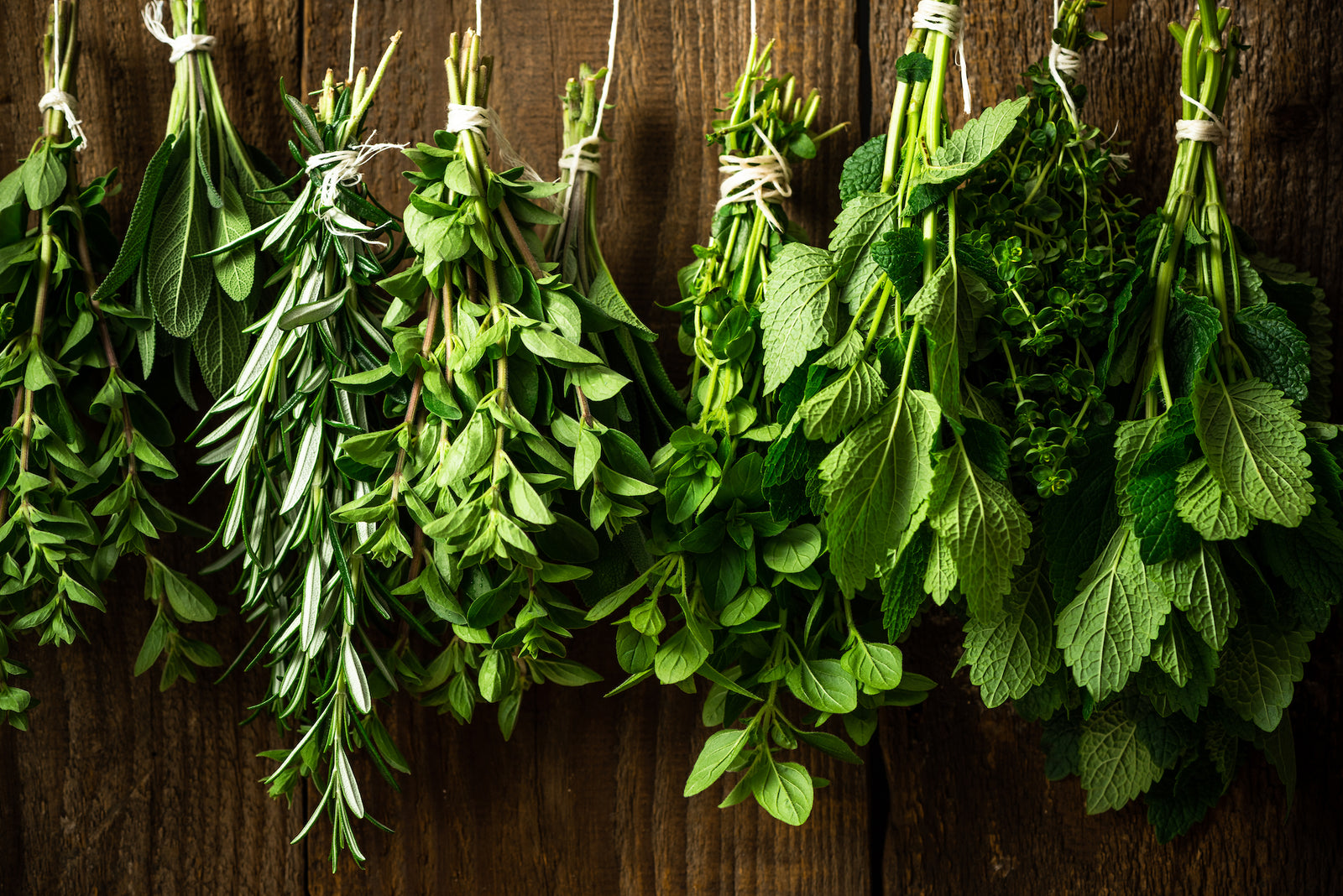 It's no secret that fresh-grown herbs pack a punch in spite of their small size. Not only do they lend a delicious flavor to your culinary creations, but herbs can also benefit your overall health. They're easy to grow in the garden and especially easy to grow in pots. Herbs have no need for a large space, so you can start growing and enjoying your own herbs today! Here are some of our favorite varieties and how to grow them.
QUICK ANSWER
Fresh herb varieties for San Diego gardeners:
Consider adding these herbs to your garden:
Basil
Chives
Cilantro
Thyme
Oregano
Parsley 
Sage 
Rosemary
Sweet Marjoram
A COMPARISON
Growing herbs in San Diego  
| | | | |
| --- | --- | --- | --- |
| Type of Herb | Season | When to Plant | A Variety to Try |
| Basil | Summer | April-May | Italian Pesto |
| Chives | Spring/Fall | February-March | Garlic Chives |
| Cilantro | Spring/Fall | October-March  | Use "slow-bolt" |
| Thyme | Year-round | Any month | Golden Lemon |
| Oregano | Summer | March-June  | Italian Oregano |
| Parsley | Spring-Fall | October-June  | Giant Italian |
| Sage  | Year-round | January-February | Berggarten |
| Rosemary | Year-round | Spring/Fall | Tuscan Blue |
| Sweet Marjoram  | Year-round | March  | Sweet Marjoram |
Health Benefits:

 Fresh herbs offer a number of health benefits, in addition to delicious taste. Basil, chives, thyme, and oregano have powerful antioxidant properties. Cilantro contains dodecenal, an effective antibiotic.

 Parsley is high in Vitamin C and folic acid, and sage has anti-inflammatory benefits. Rosemary also has anti-inflammatory properties and can benefit circulation. Sweet marjoram can help lower cholesterol and blood pressure, and improve circulation as well. These are just a few of the benefits associated with fresh herbs!
HOW TO GROW HERBS 101
Tips to Grow Herbs in San Diego
Herbs can be planted from seeds, or more easily from starter plants purchased at the garden center. They'll grow in just about any kind of container, and provide the perfect backdrop for the fruit trees you planted this spring. Whether you plant your herbs in pots on the patio or in a spacious garden, you'll soon find yourself foregoing dried herbs in favor of the diverse, robust flavors of the fresh.
SOIL
After selecting a location for your herbs, it's important to remember that different types have different soil needs. Keep this in mind for the following varieties:
Basil: Basil plants need warm soil, so it's best to plant it when nighttime temperatures stay above 60°. Alternatively, potted basil will do well indoors on a sunny windowsill.
Oregano & Sweet Marjoram: These two need especially good drainage. A soil with too much clay will stay too wet for these herbs.
Rosemary: Avoid using too much fertilizer; this can contribute to woodiness.
Cilantro: Use mulch to keep cilantro roots cool.
These quick soil tips will help you ensure that your herbs can reach their full potential.
WATER 
Just as with soil, different herbs have varying water needs. Whether you grow your herbs inside or outdoors, the following tips will help you avoid giving your herbs too little or too much water:
Needs moderate to little water: Rosemary, oregano, thyme, sweet marjoram, and sage when established. Good drainage is a must for these plants.
Needs thorough watering: Cilantro, basil, parsley, and chives. These herbs like moist soil (but not soaking). They are much less drought resistant, so be sure to water them regularly.
Understanding the water requirements for each of these varieties can be especially helpful if you are planting herbs together in pots.
MAINTENANCE
Now that your herbs are growing, they'll need a little bit of maintenance to ensure that they keep thriving. Here are some quick guidelines for herb care:
Cilantro is a social plant; it needs support from neighboring plants. It is also important to minimize weeds around cilantro.
To encourage branching in basil plants, cut back stems to just above the first set of leaves when plants have developed three pairs of leaves. Prune often to avoid flower formation. When a stem has developed four pairs of leaves, cut each stem down to just above the first set.
If you live in a hot climate, it's best to provide partial shade for parsley and sage.
Trim rosemary regularly to encourage new growth.

HARVESTING HERBS
HOW TO HARVEST HERBS IN SAN DIEGO
When and how do I harvest herbs? Fresh herbs can be enjoyed for long stretches when cared for properly. Continue cutting basil plants back throughout summer, and then the entire plant can be harvested for pesto. Harvest chives by snipping spears to the ground. Cut off cilantro leaves as needed, and harvest the whole plant before it starts to flower. Cut back your thyme before flowers appear for best flavor. Hold foliage like a ponytail and shear to about 6 inches tall. The flavors of oregano and sweet marjoram are strongest when plants are in bud but not yet flowering. Cut these back to 4 inches tall in late spring, summer, and fall. When gathering parsley leaves, pick from the outside to allow the center to keep growing. Harvest sage just above where new growth emerges; avoid cutting into old, woody growth. Trim rosemary as needed; using it often will encourage further growth.
More Resources: