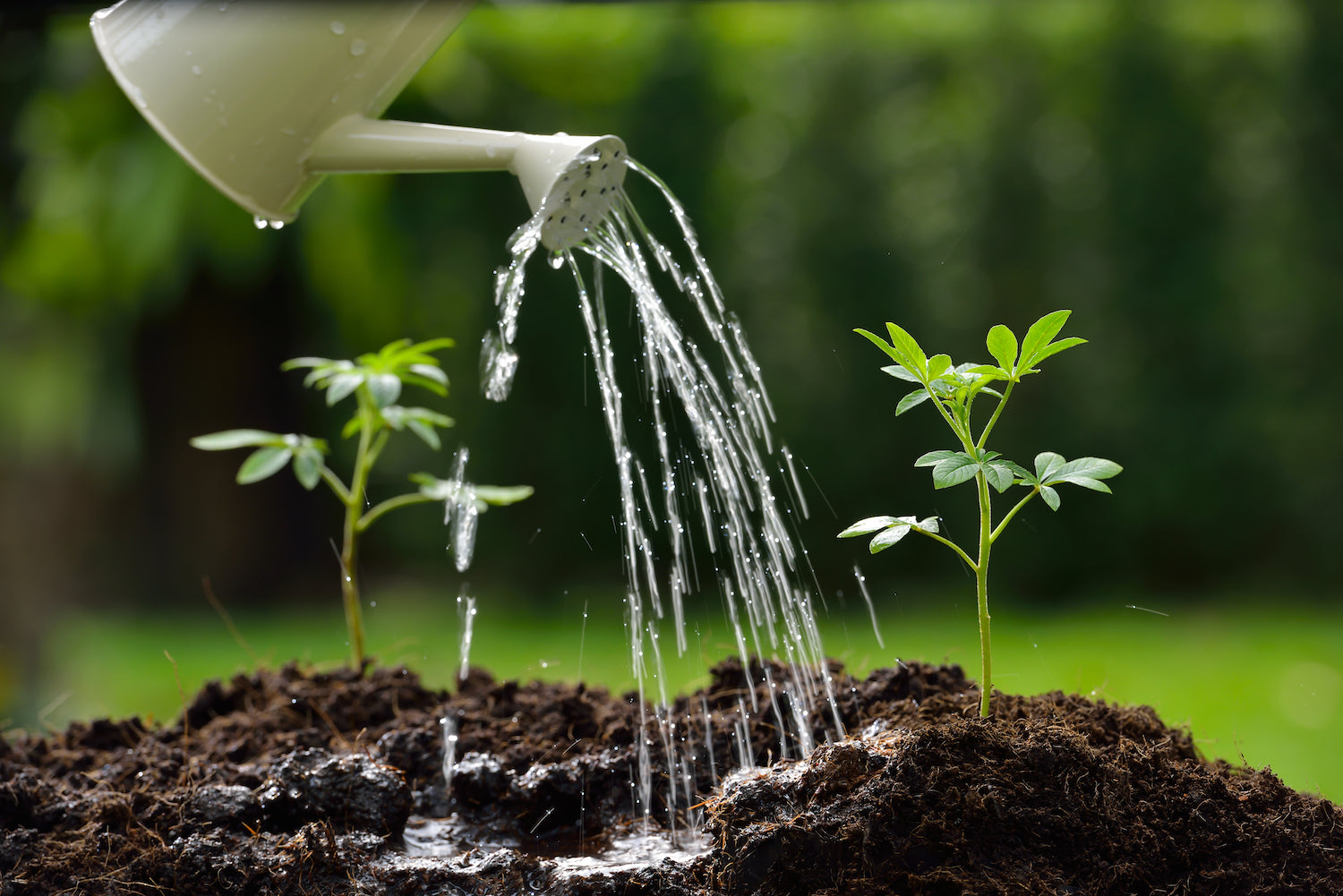 Watering your garden is an art; there is a balance to be found between overwatering and underwatering your plants. Additionally, California's seasons of drought make water conservation techniques especially attractive to the San Diego gardener. Take a look at these watering tips that will help both your plants and your wallet!
WATERING YOUR PLANTS
Top tips for regular watering
Below are some guidelines for watering your garden plants:
Follow nature's lead: Your desert plants may not need watering for days at a time. Plants that are native to a fairly moist climate will need more frequent watering.
Use your hands: Use your finger to feel the soil about an inch below the surface. If it is moist to the touch without being wet, your plant is getting the correct amount of water.
Use a good can and good soil: A can with a long neck is especially helpful if your plants grow lots of foliage, and using room-temperature water is best. Make sure your soil drains well—sandy soil does not retain moisture, and clay-burdened soil stays too wet and causes root rot.
Perform routine maintenance: Frequent weeding will minimize competition for your plant's water. Additionally, watering in the morning fortifies your plants against the hot sun. Mulch is also a good way to retain soil moisture and keep weeds down. 
These simple guidelines will help you water your garden effectively, and your plants will be able to flourish as their water needs are met.
WATER CONSERVATION
Smart & efficient water strategies
Here in San Diego, we're always aware of the need to save water, since it is a scarce resource and rates are high. However, if we manage our water efficiently, we can still enjoy beautiful gardens! These are some products and practices we recommend for water conservation:
1. SAVING WATER IN YOUR LANDSCAPE
There are many simple, practical ways to save water in your landscape. Here are some of our top tips:
Mulch! Adding a 2-3" layer of mulch around shrubs and trees helps to reduce evaporation.
Water early in the morning while temperatures are still cool (the best time window is 4-8am). This way, more water will penetrate the soil instead of evaporating into the air. 
Water your lawn deeper instead of more frequently when the weather heats up. Deeper watering encourages the roots to go down farther to chase the water, resulting in less heat stress on the roots.
Raise the mowing height on your mower. Taller grass cools and shelters the roots below, which helps to reduce the need for more frequent watering.
Make sure to pull those weeds! This reduces the competition for water. Feed your garden at least quarterly to help your plants stay healthy and strong.
When watering by hand, make sure the nozzle is directed at the base of the plant, not the leaves above.
During the spring and summer seasons, these strategies will help you save water while still giving your plants what they need to thrive in the San Diego heat.
2. RAINWATER HARVESTING 
A rain tank or barrel is used to collect and store fresh rainwater that runs off your home's roof. Modern rain tank technology allows water to stay clean for months. It's an excellent way to put free water to good use—excess water is kept out of drainage systems, it saves you money, and your plants will prefer naturally "soft," chemical-free rainwater.
We recommend the Bushman rainwater harvesting tank. These tanks maintain a high quality of rainwater with gutter guards, insect filters, and first flush devices that divert the first rains of the season to the drain. The opaque tanks to not allow algae growth, and they are lined with food-grade polyethylene. 
It can be difficult to find water tanks designed for residential use. Bushman specializes in slimline tanks that fit under the eaves of your house and come in six different color options.
You can also pick up a rain barrel at your local Grangetto's. Our 60-gallon tank is small for most yards, but it will still allow you to water a smaller garden and save. It's a great starter tank, very affordable, and will allow you to have a good quality water source for the warmer months ahead.
3. WATER SOLUTIONS
Besides rainwater harvesting equipment, we can also recommend a number of other products that help to provide water conservation solutions:
SmartDitch water flow control: SmartDitch is an HDPE ditch-lining conveyance system that controls the flow of water. This highly engineered plastic ditch liner is often specified in places where methods like riprap, concrete, and earthen lined ditches have failed. SmartDitch is an ideal solution for slope stabilization, drainage, and erosion/sediment control, as it is long lasting, lightweight, less costly and easy to install.
Erosion control: Erosion control is the practice of preventing or controlling wind or water erosion. It protects gardens, agriculture and homes from being flooded and prevents harmful runoff into our storm drains. Using drain pipe to direct water strategically can be proactive in preventing damage and stormwater runoff. Stormwater can pick up debris, chemicals, dirt, and other pollutants and flow into a storm sewer system or directly to a body of water. Anything that enters a storm sewer system is discharged untreated into the water we use for swimming, fishing and consuming. Proper drainage helps control erosion, and you can find drainage supplies and helpful advice at your local Grangetto's.
Reclaimed water products: These products clearly identify the use of non-portable water; they include reclaimed pipe, purple landscape dripline (special order), NDS valve boxes, valves, rotors, sprays, sprinkler caps and marking tags and signs. 
Water conservation products: More products to consider include sprinkler controllers, rain sensors, rotating nozzles, drip/low volume irrigation, and check valves. We carry a full line from Hunter, Irritrol, Rain Bird, Weathermatic, Netafim, Dig and Spot Systems from conventional to drip irrigation systems. Let us help you install or retrofit your irrigation system by helping you plan what products will work best for your landscape and save you water and money!
Our knowledgeable staff is up-to-date on the newest water saving irrigation technology available, and we're happy to chat if you have any questions or need more details about the products we carry. We're here to help you save water in your landscape while saving money and time and still having the yard you've always wanted.
IRRIGATION
Getting the most out of your watering system
Another key way to conserve water in your space is to ensure that your irrigation system is operating at maximum efficiency.
CHECK YOUR SPRINKLERS. Now is an excellent time to double-check your sprinkler system.
Plugged or broken heads should be fixed or replaced.
Brown-patterned circles in your lawn around a sprinkler head indicate it has been clogged by dirt or has become a victim of the dreaded lawnmower attack.
For sprinkler heads that are simply out of alignment, use a flat head screwdriver to adjust your sprinkler head back to its correct spraying angle. Simply turn on your sprinklers, station one at a time, and be sure that all laws surfaces are receiving water. Use the small, flat head screwdriver to adjust.
The irrigation system in flower beds should also be carefully checked. Many times we plant in from of a sprinkler. This isn't a problem when the plan is a 6" tall seedling, but it can block the water to other plants as it grows.
WATER REBATES. SoCal Water$mart is a rebate program offered by the Metropolitan Water District and administered by EGIA. In addition to the Metropolitan Water District's conservation portal at bewaterwise.com, visitors to socalwatersmart.com can learn about the rebates that are available for choosing to save water.
San Diego residents can enjoy rebates such as the following:
Rain Barrel Rebate
Rotating Sprinkler Nozzle Rebate
Soil Moisture Sensor System Rebates
Weather-Based Irrigation Controller Rebates
High Efficiency Clothes Washer Rebates
To access the online rebate application, learn about the program rules and regulations or check the status of your rebate, visit their website.
At Grangetto's, we are happy to assist San Diego residents as they encounter the challenges of efficient water use. From simple watering methods to rain storage to more complex draining and irrigation strategies, there are many ways that we can do our part to conserve water. Visit your nearest Grangetto's location to learn more, pick up products and find professional advice.
Check out this great watering guide resource from our friends at Escondido Growers for Agricultural Preservation (EGAP), linked here: http://growescondido.org/


Grangetto's Resources: