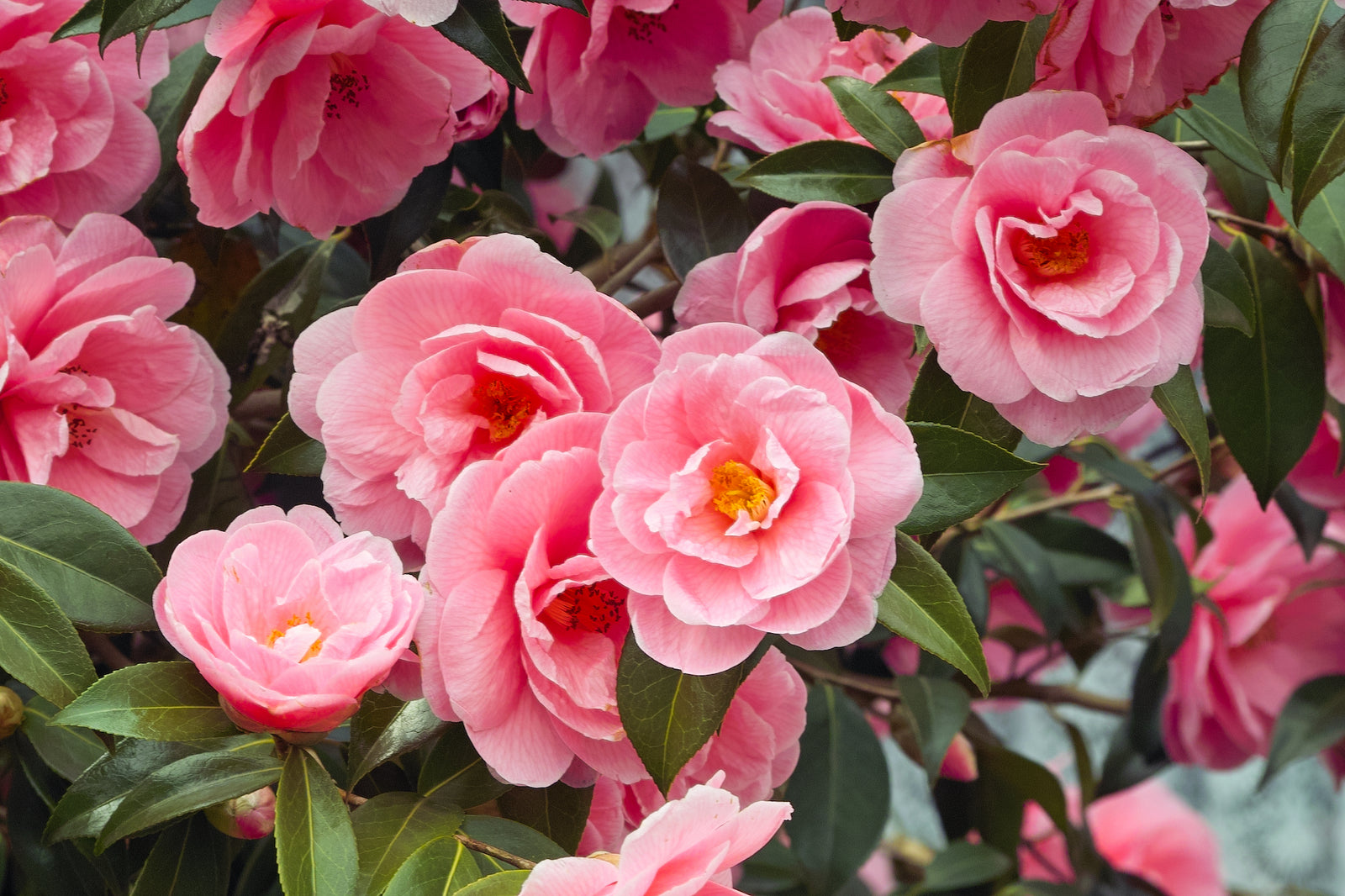 CAMELLIAS
Many enthusiastically consider the Camellia "Queen of the Garden," especially while roses are quietly resting. Ok, so our roses in the west don't begin to rest until we forcefully, but of course sadly, decide that we must cut them back in January. Luckily for us, beginning in September and continuing into the Spring, the camellia brings elegant floral form and color into our gardens.
They are wonderful in the garden as a standard and single focal point, in mass, or as a container plant. This shrub has beautifully rich, dark green shiny foliage and when pruned properly, gorgeous plant form, thereby contributing to the beauty of a garden year round. Other positive attributes include the fact that camellias are relatively pest- and disease-free. What more could you ask for?
The two major groups of camellias are Camellia japonica and Camellia sasanqua. Camellia japonicas bloom January through May. They have larger, glossy green leaves and flowers that are not fragrant. These camellias are evergreen and prefer to be planted in dappled shade and even deep shade. Camellia sasanquas bloom from September through December. They have smaller leaves and depending on the variety, will grow in full sun or deep shade. They are wonderful as a specimen plant, unclipped.
There are many bloom types to consider when choosing your camellia: anemone, rose, single, formal double, peony, and many more. Both the C. japonica and C. sasanqua have many varieties to choose from. When making your selection, consider not only bloom form and color but also bloom time. You can have your camellias blooming from September into May with a wise and thought out selection. Bloom form is important to most of us. If you live by the coast, talk with your nursery person to be sure that a more complex form with a higher petal count will open fully in spite of the morning and afternoon damp fog. Don't despair, there are varieties equally beautiful but with a simpler form. There are so many attributes to each flower type that you just have to see them to appreciate them fully.
Plant your new camellia to give this wonderful plant the best start in your garden. Take care to plant the root ball slightly higher than the soil line, not lower. Once your camellias are loaded with buds, do not feed them. Have you ever fertilized your heavily laden-with-flower-buds camellia shrub, thinking of course that you are helping the buds to burst into fabulous color, only to be horrified when they all fell off? The camellia does not want fertilizer once the buds are set. Don't worry, the plant will reward you fully without any additional food.
Once the bloom time is complete in the spring, you'll want to use an excellent all-around fertilizer, to give a healthy boost and reward your plants for their colorful winter flower "show."