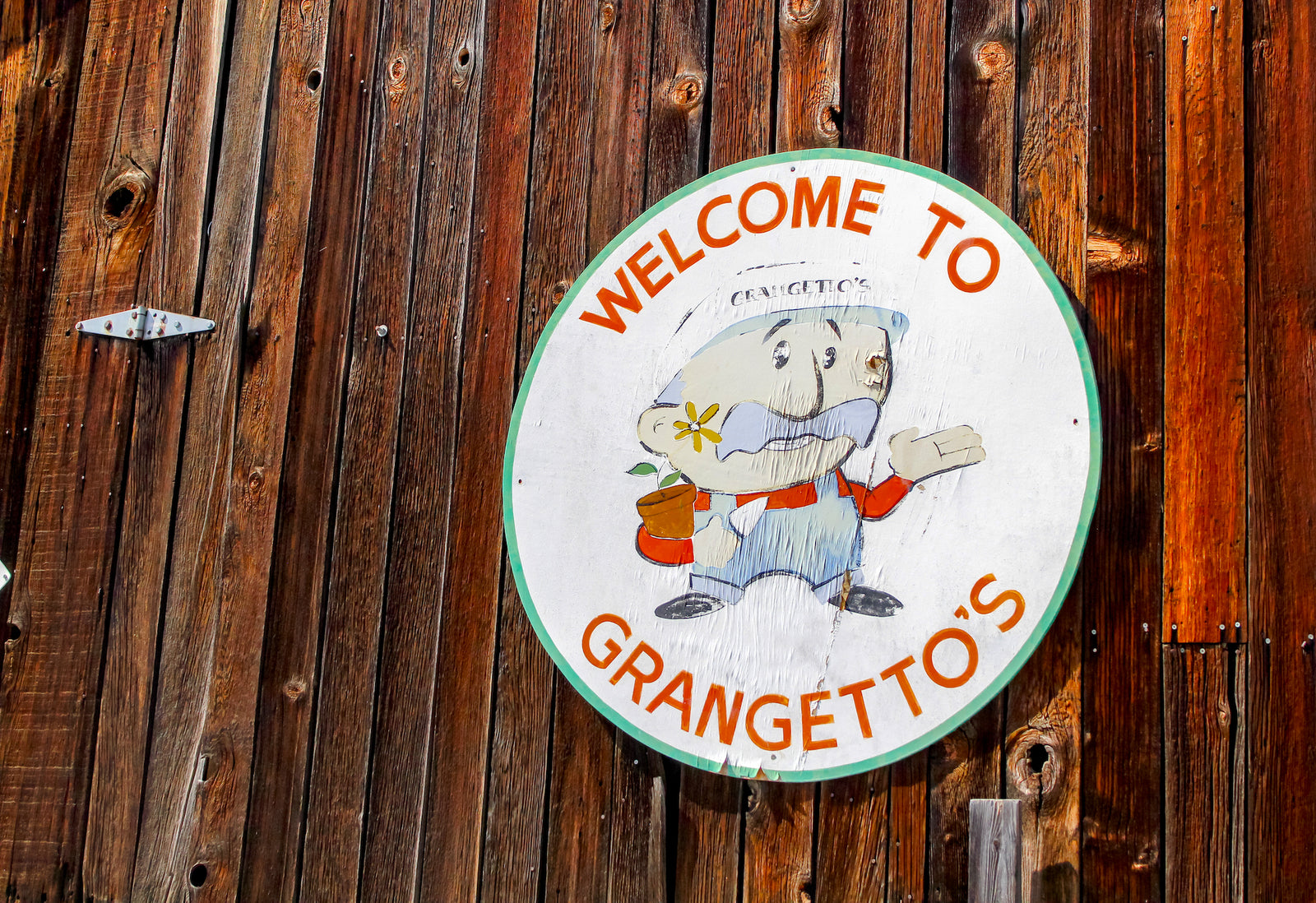 2022 marks a special time for the Grangetto family as we celebrate 70 years since the founding of Grangetto's Farm and Garden Supply! From the very beginning, Grangetto's has been dedicated to bringing excellent products and services to the farmers and gardeners of San Diego county. As with any milestone, this is a perfect time to reflect on how far we've come since 1952.
----
A SIMPLE BEGINNING
Edward Grangetto, Sr. started the business in 1952 by supplying crop oils and fertilizers to north San Diego county's agricultural community. Born to Italian immigrants in 1913, Edward Grangetto, Sr. had grown up in the agriculture industry as he managed groves and helped on his family's own farm.
Grangetto was a modest man who worked tirelessly to provide for his family and benefit the industry in general.
His son Kevin, who now owns and operates the business, told the San Diego Tribune, "He was a real example to me as a husband and father. And now that I have children of my own, I realize the commitment he made to my mom and the business…My dad's handshake was his word. He was well-respected in the community, sort of a legend."
His elder son Eddie told Edible San Diego, "He is the cornerstone of everything we have today and that has been created since he passed away."
-----
GROWING & FLOURISHING
Grangetto's Farm and Garden Supply has grown from a small warehouse in Escondido to a successful business with four locations in North County.
The company is now owned and operated by Edward's son, Kevin Grangetto. He states,
"Our mission is quite simple and that is to be a resource for growers, landscapers, and homeowners, and to provide quality advice and products to solve their growing challenges."
Eddie and Kevin Grangetto actively apply the principles of quality work that their father exemplified as they grew up. The Grangetto brothers were raised on the family avocado ranch and bring real-world experience to their customers. Eddie focuses his efforts on developing custom fertilizer programs for avocados and citrus growers in the county, while Kevin enjoys working with nursery and landscape customers. Kevin and Eddie are licensed PCA's (Pest Control Advisor) and CCA's (Certified Crop Advisor). Being involved in these professional organizations allows them to stay in touch with the latest technology in order to best serve their customers.
-----
KEEPING UP WITH CHANGING TIMES
It's not always easy to survive in a changing environment, and the only constant in the business has been the need for change.
In the early 1970s, avocados became the main crop of the area. In response, the business expanded to include products such as chemicals and farm hardware.
With urban encroachment during the 1980s, Grangetto's expanded the number of stores and their product line to include products for irrigation, golf courses, municipalities, and professional landscapers.
As much as Grangetto's supports the local farm community, they're not just for farmers. Kevin says, "While it's true a large focus of our business is on serving growers and commercial landscapers, 25 percent of our business is geared toward retail homeowners. And our goal for the future is to continue growing this arm of our business. We want to appeal to a wide cross-section of people – from the 20-year-old with a condo, to the 70-year-old who's been gardening his or her entire life."
To help educate and inspire gardeners at all levels, Grangetto's offers a newsletter to anyone who needs gardening information and how-to's tailored to the Southern California growing region.
-----
BALANCING COMMERCIAL & RETAIL
Grangetto's has adjusted from a strict commercial focus to a combined retail and commercial business model. This overlap carries on the vision of Ed, Sr., who believed in staying ahead of industry trends. For Grangetto's, this meant adjusting as the county transformed from predominantly agricultural to residential development. They recognized that residential gardeners were a new segment with their own needs.
The company's retail division began in the early 1970s with the erection of a building next to the original Escondido store. From here, Grangetto's could supply products to homeowners and amateur gardeners alongside the professionals served by the commercial-wholesale division.
-----
FOUR LOCATIONS FOR EXPERT SERVICE
This format was successful and replicated as new branches opened in Valley Center in the late 1970s, Encinitas in 1985, and Fallbrook in 1995. "We try to get geographically closer to our customers," Kevin states. "Within 10 to 15 miles." While the business's specialty is still the commercial market, Grangetto's is growing in the residential space as well. We are dedicated to offering quality products and personal service to all of our customers, wholesale and retail.
ALWAYS LEARNING
Taking the lead from their father and staying ahead of trends in agriculture, the Grangetto brothers have incorporated products and practices geared toward organic and sustainable farming. In addition to selling eco-friendly and organic products, Grangetto's also offers rainwater harvesting and conservation systems.
-----
REINVESTING IN THE COMMUNITY
A passion for community service runs in the family. Edward Grangetto, Sr. served on the San Marcos City Council as well as multiple agricultural associations. Today, Kevin and Eddie Grangetto are both involved in agricultural associations, as well as apprenticeship programs aimed at inspiring and training the next generation of farmers. We partner with local non-profits, FFA programs, and schools. As we are familiar with the challenges of sustaining a business in our community, Grangetto's is eager to promote products from local businesses.

Grangetto's is proud to offer personal service and the best products to garden enthusiasts at every level. Kevin tells Edible San Diego, "What makes us unique is that growers at any level can come and get knowledgeable advice from people who are actual farmers. Whether you're a hobbyist gardener or a full-time farmer, have two fruit trees or 2,000 acres, we specialize in helping people bring to fruition whatever it is they're trying to grow. Building long-standing relationships is important to us, and we're committed to offering personal solutions."

This commitment to the community has distinguished Grangetto's from its earliest days and will continue to set it apart in the years to come.